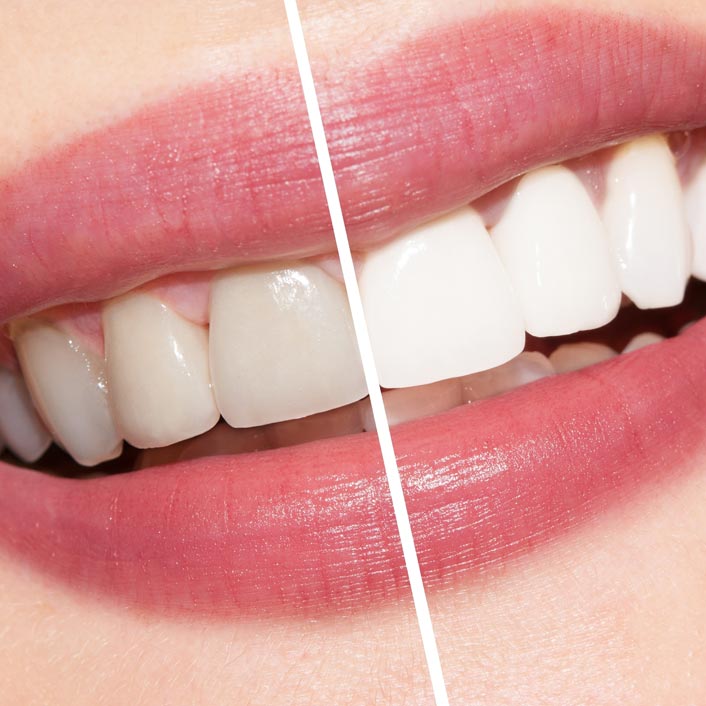 Whitening
We all want to improve the appearance of our smile, and what better place to go than to the dentist! At Cypress Family Dentistry, we offer multiple professional solutions to enhance the beauty of your smile, and one of the simplest and most affordable options that we recommend is a teeth bleaching procedure. Teeth whitening can be performed as needed before a special occasion, or you can make it part of your routine oral health care by having it done conveniently after each 6-month cleaning.
Many of our patients choose to whiten their teeth every 6 months to fight off stains and keep their teeth looking great year-round. Yellowing and stained teeth become more common as we age, and this is largely impacted by what we eat and drink. Drinks such as coffee, tea, soda and wine can discolor the teeth and certain colored foods, especially those with dyes, can leave stains. Smoking/chewing tobacco, certain prescriptions/medications, tooth damage/trauma and even genetics can also play a role in the color of one's teeth.
The simplest way to help combat stains from forming on the teeth is to brush and floss immediately after eating and drinking; however, this is typically not enough to fight off staining entirely. Luckily, professional whitening has the science and strength to take teeth whitening to the next level.
In our office, Dr. Reynolds and Dr. Walker uses Glo Whitening. This in-house procedure can be scheduled separately or done at the same time as a teeth cleaning. The whitening treatment takes about an hour and provides immediate results. The speed and ease at which it is completed makes it the idea choice for many patients.
How does in-office GLO Whitening work?
There are multiple factors to the Glo Whitening procedure. First, a hydrogen peroxide whitening solution is placed on the teeth. Then a dental tray is placed in the mouth over the whitening solution to create a closed environment in the mouth. Once in place, a professional heat lamp is turned on to warm the gel and illuminate the teeth with a safe LED light. The light and heat work together to vaporize stain molecules off of the teeth. In just one hour, Glo Whitening can simultaneously whitening the top and bottom teeth up to 12 shades whiter!
In-office Glo Whitening with Dr. Reynolds and Dr. Walker will transform your teeth in a dynamic way. However, we do recognize that at-home solutions are more convenient for some of our patients. Over-the-counter solutions, like whitening trays or strips, do whiten teeth but do not work as well as professional treatments. If you're looking for an at-home solution, we recommend our Glo take-home whitening kit.
Only available from a dentist, GLO take-home whitening provides professional whitening results in the comfort and convenience of your own home. This take-home kit can be used as a full whitening treatment or as a touch up solution between professional in-office whitening visits.

Back